Description
ULTRA PURE LPS from Salmonella minnesota R595 (Re)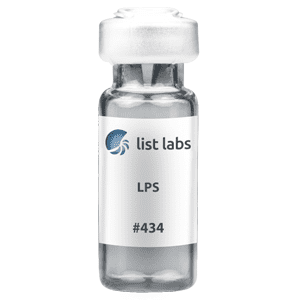 View Special Shipment Requirements
Products are for research purposes only and are
not for use in humans or as diagnostic agents.
$255.00
#434 (1 mg)

Technical Info

Certificate Of Analysis
Form
lyophilized powder
Storage temp
2-8°C
Endotoxin levels
1.1 EU/ng
Description
This products is an adjuvant. For more information on this and other adjuvants from List Labs, read our blog.