Description
Tetanus Toxin C-Fragment from Clostridium tetani, FITC Conjugate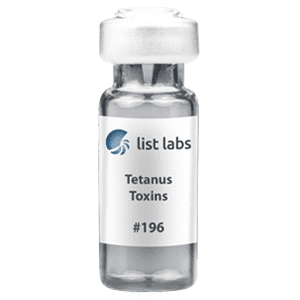 View Special Shipment Requirements
Products are for research purposes only and are
not for use in humans or as diagnostic agents.
$440.00
#196A (10 ug)
Certificate Of Analysis
Form
lyophilized powder
Storage temp
4°C
Description
Tetanus toxin C-fragment is manufactured by enzyme digestion of native tetanus toxin produced in Clostridium tetani cultures. Each lot of C-fragment is tested for binding activity to GT1b ganglioside. The FITC conjugate of C-fragment (C-FITC) also exhibits GT1b ganglioside binding activity.
Information on the various uses of this and other Tetanus toxin products can be found on our blog.